DIFFERENTIAL GLOBAL NAVIGATION SATELLITE SYSTEM (DGNSS)
A Global Navigation Satellite System (GNSS) is a space based positioning, navigation and time distribution system designed for worldwide use. Global Navigation Satellite System (GNSS) refers to a constellation of satellites providing signals from space that transmit positioning and timing data to GNSS receivers to have Global coverage. The receivers then use this data to determine the location. Major GNSS are as follows.
GPS(USA's NAVSTAR Global Positioning System)
GLONASS(Global'naya Navigatsionnaya Sputnikovaya Sistema) of Russia
Galileo of Europe
BeiDou Navigation Satellite System of China
Navigation with Indian Constellation(NAVIC)
Differential GNSS (DGNSS) is a kind of GNSS Augmentation system based on an enhancement to primary GNSS constellation(s) information by the use of a network of ground-based reference stations which enable the broadcasting of differential information to the user to improve the accuracy of his position. Differential GNSS (DGNSS) system is a means of improving the accuracy of GNSS and providing integrity monitoring to the user. DGNSS involves having reference stations, at precisely known locations that provides real-time corrections and integrity information for GNSS signals. DGNSS systems provide shore‐to-ship services.
The DGNSS allows the users to increase the position accuracy from 100 meters to 5 meters making it more useful and precise to navigation.
Each DGNSS Broadcast Station provides DGNSS corrections to users in its region via marine radio beacon signals. Marine radio beacons, which operate in the 283.5 to 325.0 KHz frequency band, broadcast DGNSS corrections by modulating the normal beacon direction-finding signal with the DGNSS correction information. The signals are received by the beacon receiver on board the user's vessel and are demodulated to recover the DGNSS corrections.
INDIAN DGNSS NETWORK
23 DGNSS stations under DGLL compute & broadcast DGNSS correction & Beacon Almanac, reference station information, failure detection & health status of DGNSS equipment seamlessly covering the Indian waters including Andaman and Nicobar and Lakshadweep Islands and providing better than 05 meters position accuracy up to 100 Nm from the coast.
National DGNSS Monitoring station at Bhandup, Maharashtra commissioned in the year 2019.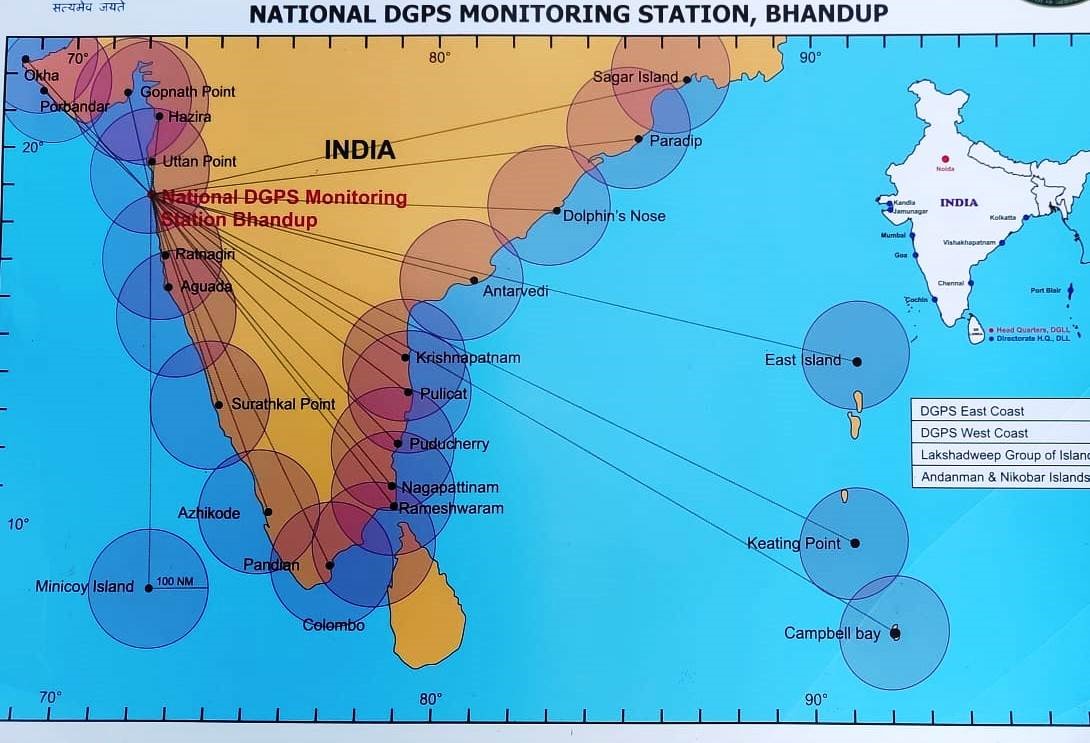 DGPS EAST COAST: 10
DGPS WEST COAST: 09
LASKHYADWEEP GROUP OF ISLANDS: 01
ANDAMAN & NICOBAR ISLANDS:03
DETAILS OF DGNSS STATIONS
NAME OF STATION
RS1
RS2
Frequency(KHz)
OKHA
N 22 28 35.28200
E 069 O4 11.11494
H-44.141mts.
ID :- 401
N 22 28 35.24182
E 069 O4 11.19083
H -44.141mts.
ID :- 402
296.0
UTTAN
N 19 16 42.18192
E 72 46 50.85529
H -14.8618m
ID :- 406
N 19 16 42.19918
E 72 46 50.85366
H -14.8612m
ID :- 407
306.0
AGUADA
N 15 29 32.17852
E 73 46 20.84846
H -4.706M
ID :- 410
N 15 29 32.17337
E 73 46 20.84752
H -4.735M
ID :- 411/td>
288.0
SURATHKAL
N 13 00 17.02686
E 74 47 23.38618
H -68.354M
ID :- 412
N 13 00 17.00844
E 74 47 23.30466
H -68.354M
ID :- 413/td>
320.0
AZHIKODE
N 10 12 13.03787
E 76 09 27.30537
H -88.2402M
ID :- 414
N 10 12 12.96224
E 76 09 27.33427
H -87.216M
ID :- 415
320.0
MINICOY
N 8 16 09.95776
E 73 0133.26505
H -80.934M
ID :-418
N 8 16 09.95605
E 73 0133.35262
H -74.094M
ID :-419
306.0
PONDICHERRY
N 11 54 59.02836
E 79 49 51.72534
H -84.6393M
ID :- 422
N 11 54 69.01857
E 79 49 51.84554
H -84.618M
ID :- 423
312.0
DOLPHIN'S NOSE
N 17 40 41.98458 E 083 17 29.14874 H 93.8403M ID :-428
N 17 40 41.93560 E 083 17 29.04196 H 93.854M ID :-429
295.0
SAGAR ISLAND
N 21 39 30.55691
E 88 02 49.10468
H -54.583M
ID 434
N 21 39 30.51435
E 88 02 49.04507
H -54.576M
ID 435
218.0
KEATING POINT
N 09 15 21.14906
E 92 46 31.38245
H -50.814M
N 09 15 21.29134
E 92 46 31.46443
H -50.759M
317.0
PORBANDAR
N 21 37 21.219423
E 069 37 12.003770
N 21 37 21.291790
E 069 37 11.968630
293.0
RATNAGIRI
N 16 59 16.373760
E 73 16 20.599300
N 16 59 16.46630
E 73 16 20.485350
308.0
NAGAPPATINAM
N 10 45 58.133290
E 79 51 00.372440
N 16 59 16.036090
E 73 16 20.376190
323.0
KRISHNAPATNAM
N 14 15 17.533210
E 80 07 33.235470
N 14 15 17.464800
E 80 07 33.358240
297.0
PANDIAN THIVU
N 08 47 08.912560
E 78 11 48.559720
N 08 47 08.898860
E 78 11 48.363840
309.0
PARADIP
N 20 15 21.040350
E 86 39 19.882780
N 20 15 21.963630
E 86 39 19.693780
290.0
ABTERVEDI
N 16 19 01.118650
E 81 43 32.844620
N 16 19 01.138110
E 81 43 32.700830
320.0
GOPNATH PT
N 21 12 11.879410
E 72 06 31.199050
N 21 12 11.7515390
E 72 06 31.160800
299.0
HAZIRA
N 210 05' 31.433
E 720 38' 34.607
N 210 05' 31.433
E 720 38' 34.607
312.0
PULICAT
N 130 25' 15.943
E 800 19'36.393
N 130 25' 16.052
E 800 19'36.477
319.0
EAST ISLAND
N 130 37' 52.039
E 930 02' 49.902
N 130 37' 51.965 E 930 02' 49.832
313.0
RAMESHWARAM
N 090 17'01.892
E 790 18'31.828
N 090 17'01.892
E 790 18'31.828
311.0
CAMPBELL BAY
N 090 17'01.892
E 790 18'31.828
N 090 17'01.892
E 790 18'31.828
289.0
DGNSS
MONITORING
STATION
BHANDUP